Bonjour et bienvenue! 
I hope you're enjoying my book, Circle to Paris: A Young Woman's Journey to Find Love, Success, and Self-Empowerment. If you've made it to the chapters set in Normandy, then today's subject will be familiar to you. I am taking you through one of my favorite parts of the province, Le Bec-Hellouin! In the book, this is where my heroine, Honora Favre, finds her first little job. She starts managing a failing restaurant that belongs to her uncle Eric, the rich farmer.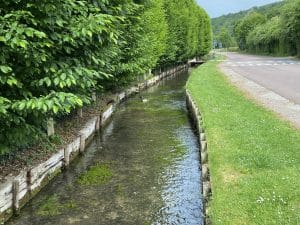 Le Bec-Hellouin is the epitome of a quaint provincial village. It's over 1000 years old, and has probably less than 500 permanent inhabitants. It sits in a valley, and internet and cell phone reception is few and far between. It is kind of a land that time forgot, but is beautiful with its fairytale-like buildings, and the people here are friendly but reserved (as the French tend to be!)
I am here on a beautiful Sunday morning. Most of the residents here are Catholic and the early Mass has just gotten out, and now we are waiting for the 11 o'clock to start. This will be taking place in the famous Bec Abbey, which was founded in 1034 by the Benedictine Order. Only a handful of monks live here. They work the land, tend to livestock, and have a most fabulous faïence, or ceramics factory, where they make everything by hand. People contact them from all around the world to enquire about their beautiful handmade pieces.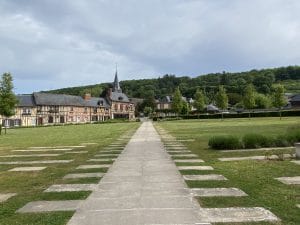 There is so much history in Bec Abbey. One of its mesmerizing structures is an ancient belltower, built in the 15th century, which has recently been renovated. There is also a section in the cloisters where, during Napoleon Bonaparte's reign, his soldiers would train horses for battle. In the courtyard, there is a pond that was originally built to water them. Today, people come to this same courtyard to meditate and pray after Mass in the church next door.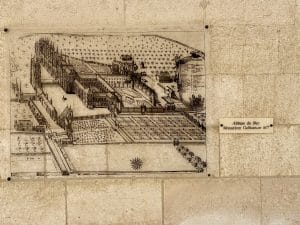 This monastery has survived so many events–wars, plagues, fires–and today, in 2022, it has been rebirthed as a peaceful place. It is again a place of Christian worship, although all people are welcome here, and the local government is paying to restore many ancient structures. It is beloved by the people of Le Bec-Hellouin.
I hope this post has inspired you to see the beauty of Le Bec-Hellouin with your own eyes, just as I am, and just as Honora does in Circle to Paris. 
Merci et à bientôt!